Best viewed ... No, on second thoughts, Best Not
Return Visitors - please note any email changes - the bottom of the page should be up-to-date
Welcome to my homepage - while some of the stuff here is a bit useless, some of it is entirely so. You can make up your own mind which is which. The rhino was shot (not literally) at Edinburgh Zoo in the Summer of 1998, and digitally corrupted for concentrated rhino wallpaper power. [Sad footnote - (Kruger) died April, 2004, aged 35]. Nobody has so far offered me a vast sum to take over the site, so these pages are made available at my own expense, as my contribution towards Global Warming. I think you'll like or dislike it, or perhaps not.
Oh - and another thing . . . .
Much of what you see here is very old, harking back to the days when everyone tried to put up some kind of homepage, long before the advent of social media - ahh ... the good old days. I have relocated this because my old ISP web host finally decided to pull the plug after a couple of decades, and I have not quite got to the point of letting all this stuff vanish without trace - maybe soon though.
Today's Menu, for your consideration . . . .
(newer / updated items tend to bubble up to the top of the list, when I remember)
Obligatory mail link and email help
If you need to get in touch by email, here's the current position. The one in the graphic at the bottoms of the pages works at the time of this update, but you will need to enter it into your email client manually. Sorry for the hassle - blame spammers for spoiling what was a perfectly good communications channel.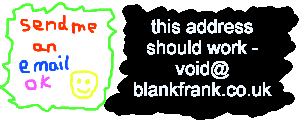 Last updated 14/04/2018 - migration to new host, various tweaks
Copyright? Possibly .....